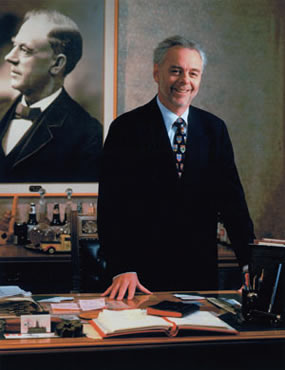 Portrait of John W. Sleeman in front of photograph of his great grandfather George Sleeman Sr. XR1 MS A801 (Box 20, File 10)
John W. Sleeman was raised in Ottawa and as a young adult he moved to England where he was inspired by the British-style pub scene. John W. brought that inspiration back to Canada and in 1978 he stretched his entrepreneurial legs by opening his own British-style pub called The Major Oak. John W. found further success when he became a partner in The Imported Beer Company.
John W. spent his youth relatively unaware of his family's history in the brewing industry. He was first introduced to his family's legacy through his Aunt Florian. With a little encouragement from his Aunt Florian and receiving his grandfather's recipe book, the Sleeman legacy was reborn. In 1985 John W. purchased the original company back from Standard Brands, obtained the rights to use the original trademark, and officially re-incorporated Sleeman Brewing and Malting Co. Ltd. After selling their first pint of Sleeman Cream Ale in 1988, the company became one of the fastest growing businesses in Canada and would go on to acquire several other microbreweries including Upper Canada Brewing Company, The Maritime Beer Company, Shaftebury Brewing Co., and Unibroue Inc. In 1994, the Sleeman Brewing and Malting Co. Ltd and Okanagan Springs Brewery merged to become Sleeman Breweries Ltd. And in 2006, Sleeman Breweries was purchased by Sapporo Breweries Ltd. for $400 million.