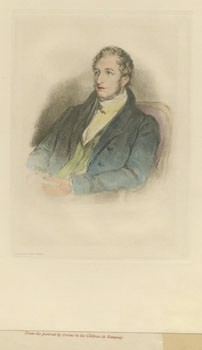 Who is John Galt?
Born in Irvine, Scotland (1779), John Galt was the author of over 80 books but is best known for his initiative in forming "The Canada Company" which purchased crown land in Ontario, Canada (then called Upper Canada) and sold it to settlers. Galt was the first Superintendent of the Company and founded the town of Guelph on April 23, 1827.
From a literary perspective, he is best known for his Scottish novels and stories of middle class small town characters, mostly portrayed in a humourous way in terms of their foibles and self deceptions. He was never financially well off, and wrote many books such as readers, spellers, biographies, children's books, condensed voyages and travels, and innumerable articles for magazines and annuals, in order to gain income for his family. His three sons all settled in Canada, and all attained a level of financial success beyond their father, who was intensely proud of all his sons, especially his youngest, who helped him with his writing after a series of strokes which began in 1832. He died in Greenock, Scotland in 1839.
Galt was encyclopaedic in his interests and also in his writings, with opinions on just about everything from political reform to water supply to Greenock, making Glasgow a deep sea port, or the practical aspects of eliminating slavery in America. His approach to most things was innovative, sometimes a bit far-fetched (he was not a scientist or engineer, so that some of his ideas in these areas were not possible), but almost always the product of an independent, creative mind.
The Collection
The John Galt Collection includes almost all published works by John Galt, including many rare and first editions. The library is attempting to acquire copies of every variant edition (including American pirated editions) in the original issue state. The H.B. Timothy Collection consists of printed and manuscript materials on John Galt and his descendants; the research materials of Jennie Aberdein, an early biographer of John Galt; and an early two-hundred page draft manuscript of a biography of Sir Walter Scott by John Galt. The Lizars Collection contains six original John Galt letters (his son, John Galt, married a Lizars) and many letters by other family members, especially Sir Alexander T. Galt and his son Elliot Torrance Galt. Other archival collections contain examples of original Canada Company land deeds and circulating holdings contain many books, pamphlets, and maps connected with the Canada Company.
Dates
1785-2013
Types of Materials
Published Material
Unpublished Material and Manuscripts
Extent
Approximately 300 books, pamphlets and theses by or about John Galt in the John Galt Collection
2 m of textual records on John Galt and family in the H.B. Timothy Collection
13 cm of textual records and 60 titles of printed volumes in the Canada Company Collection
How to Access This Resource