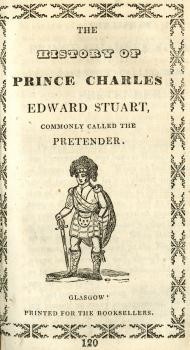 Scottish chapbooks (a shortened form for "cheapbook") were abbreviated 8 to 24 page booklets that included all types of inexpensive popular literature sold in the 18th and 19th centuries by itinerant pedlars, hawkers, or chapmen. "Chap" is derived from the Old English for trade, so chapmen were sellers who peddled small books. They would carry boxes holding their small-sized works along busy streets in large cities, such as Glasgow or Edinburgh, or through small, rural communities. Typical accounts were versions of romance, ribald ballads, poetry, religious tracts, songs, and popular tales about characters such as the highwayman, Dick Turpin. Sometimes chapbooks were illustrated with a few crude woodcuts (not expensive etchings) to keep costs low.
Chapbooks in Scotland were usually small pamphlet-like books of clever remarks, folklore, stories, and songs normally costing only a few pence. After 1750, booksellers in Glasgow and Edinburgh, led by the printer Dougal Graham (d. 1779), were particularly active in circulating this type of literature. Booksellers in smaller centers at Paisley, Stirling, and Dumfries also were in the trade. Guelph's chapbook collection began in 1981 with a small collection of 20 Newcastle-upon-Tyne chapbooks that added to an earlier collection of Brash & Reid chapbooks published in Glasgow. 
We have digitized nearly all of our chapbooks and they are available online through our Scottish Chapbooks Website. 
Dates
Types of Materials
Extent
Approximately 580 volumes
How to Access This Resource