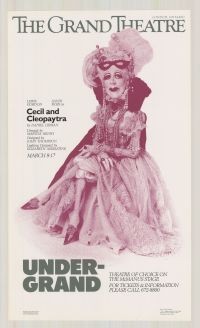 Opening in 1901, this theatre replaced the Grand Opera House which had been destroyed by fire the year previous. It was operated by Ambrose Small until he disappeared mysteriously in 1919. To this day, the theatre is said to be haunted by his ghost. Over the years, the Grand Theatre has been under the management of many different companies. Notable Artistic directors include William Hutt, Larry Lillo, Martha Henry, Michael Shamata and Susan Ferley. The Theatre is still in operation today and is under the direction of Dennis Garnhum.
In this collection you will find scripts, house programs, correspondence, reports, schedules, plans/drawings, promotional materials and oversized materials.
Dates
1985-Present
Types of Materials
Photographs
Posters
Published Material
Technical Drawings
Unpublished Material and Manuscripts
Extent
4.8 metres of textual and visual materials. 
Further accruals are expected. 
How to Access This Resource