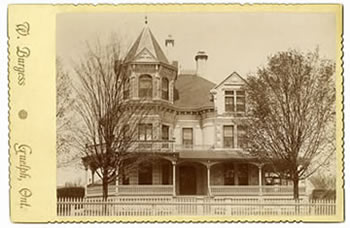 The Sleeman family built its first home in Guelph in 1859. It was a two-story stone structure located across the road from the Silver Creek Brewery. In 1865, George (Sr.) purchased the family home from his parents and began to construct a larger residence with the original structure at the rear. Construction on the Queen Anne style home was completed in the summer of 1891. The home was a reflection of a prosperous period for the Sleeman family and Victorian culture.
The home's décor boasted the finest woodwork and stonework, including specially crafted dining chairs with barrels carved in the back of each. George (Sr.) was very interested in technology and equipped his home with the latest technology including labour saving appliances, electric and gas lighting, speaking tubes for communication, and a "bottle walk" made out of used beer bottle bottoms.
The surrounding grounds boasted perfectly kept gardens, an orchard, a lily pond, and included the Priory, the first building built in Guelph. The residence has remained an architecturally significant and culturally important landmark in Guelph's history.