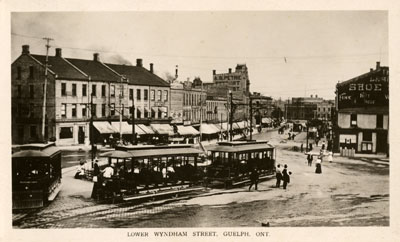 Guelph Railway Company operating on Wyndham St. XR1 MS A801 (Box 5, File 1)
George Sleeman (Sr.) always had a taste for new technology and business ventures. In the 1880s, electrical radial railways were emerging across Ontario, including in the nearby cities of Berlin (now Kitchener) and Brantford. George (Sr.) saw the potential of having a street car service in Guelph, both for the infrastructure of the city and for his brewery. Not only could the railway transport passengers and workers around the city, it could also transport cargo and beer to his suppliers. It was truly a family run operation because the streetcar drivers were all members of the Sleeman family.
George (Sr.) single-handedly funded the Guelph Railway Company which undertook the project. Construction began in 1894 and in its first year it laid down approximately five miles of track. In 1902, an interchange was installed that looped around Ontario Agricultural College (OAC). The rail access not only allowed the college to transport coal to their grounds, but also provided transportation services for over 3500 passengers attending OAC events each June.
Although the venture was relatively successful, George (Sr.) was unable to secure investors to expand the lines to other cities and the debts that were accumulated during construction remained too high. As a result the bank took over the company along with the Silver Creek Brewery. Although the family recovered financially and would regain control of the brewery, the city continued its ownership of the railway company until other forms of transportation phased out the electric railway.