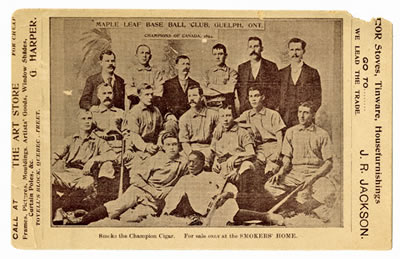 Baseball emerged as a popular pastime in North America during the nineteenth century. Early history of the sport in Canada originates in southwestern Ontario and the country's first organized team, the Young Canadians, was formed in Hamilton in 1854.
In addition to being a successful entrepreneur and businessman, George Sleeman (Sr.) was an avid sportsman. In the 1860s, George (Sr.) set up a ball diamond behind his brewery and soon began to recruit players to join his team The Guelph Maple Leafs. As the financial backer, manager and pitcher, George (Sr.)'s team quickly became a source of civic pride, with hundreds of fans following their competitions in Canada and the US. In 1869 the team won the Canadian Championship and would remain the dominant team for the next seven years, going on to win the 'World Series' in Watertown, NY in 1874. Sleeman is noted for being one of the earliest managers to import players from the US and to pay his players salaries. For his contributions to Canadian baseball, George Sleeman (Sr.) was inducted into the Canadian Baseball Hall of Fame in 1999.
Beyond baseball, George (Sr.) also played a prominent role in other sports and social clubs including the Guelph Turf Club, the Guelph Bicycle Club, the Guelph Rifle Association, and the Royal Curling Club.