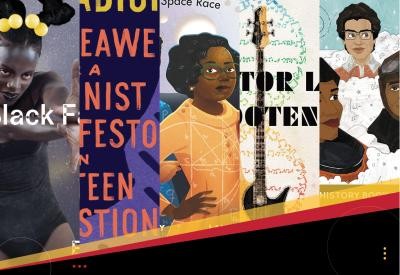 The Guelph Black Students Association (GBSA) and the University of Guelph's Cultural Diversity team are honouring Black History Month with a digital library display entitled Celebrating Black Achievement.  
The objective of this collection is to emphasize this year's theme for Black History Month, Showcasing Advancement in the Black Community, by shedding light upon and celebrating the social, cultural, and academic development of Black people, as well as the many contributions that the Black community has made to all aspects of society. Another aim of the collection is to enable all readers to learn about the countless wonderful contributions that Black people have made to today's society despite the many barriers that exist which render advancement in the Black community more difficult than it should be.  
The collection is comprised of a wide variety of literary works ranging from the autobiographies of important figures in the Black community such as Randy Weston, Malcom X, and Michelle Obama, to the famous poems of the multitalented Maya Angelou, and educative pieces about racism and discrimination. 
Below are some titles that GBSA members have recommended which can be found within the collection: 
View all events for 2023's Black History Month at U of G.  
We extend our warmest thanks to the GBSA and the Cultural Diversity team at U of G for curating this collection and our deepest gratitude to the individuals below for their invaluable contributions to this project: 
Damilola Oguntala, co-president, GBSA 
Cheyenne Wilson, social media coordinator, GBSA 

Alexis Charles, coordinator, Cultural Diversity Programs, Student Experience 
The GBSA, established in 1994, functions as a resource center for diverse and minority students on campus. The association focuses on issues of diversity, race, and other significant factors relevant to the lives of students of colour, and tries to encourage the inclusion, respect, and education of the beautifully unique and present black and minority faces on campus. Though the association is a volunteer driven organization for underrepresented students, it is open to everyone on campus and individuals within the Guelph community interested in learning about issues regarding and facts about students of colour both around the world and right at home in Guelph. Check out the GBSA's Instagram account to learn more about the association's critical work. 
Questions? Ask Us!