Last updated: February 24, 2023 14:16 EST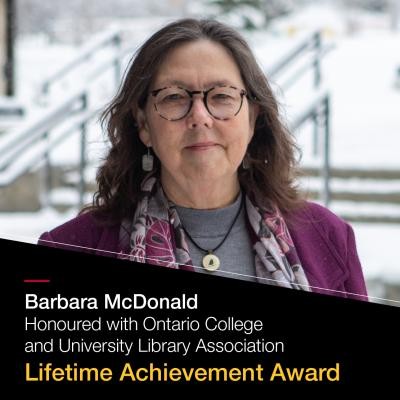 Earlier this month, Barbara McDonald, U of G's acting associate university librarian (research) received the 2023 Lifetime Achievement Award from the Ontario College and University Library Association at the Ontario Library Association Conference held in Toronto February 1 to 4.    
The award recognizes an individual who has made an outstanding contribution to academic libraries.   
In addition to implementing numerous effective library programs at the Memorial University of Newfoundland, McMaster University, Brock University, and the University of Guelph, Barbara is well known for her work on open access and for being a world class mentor to many librarians.    
"Barbara is deeply committed to mentorship and we've all benefitted from and seen the impact of this commitment over the course of her career," said Melanie Parlette-Stewart, head of Learning & Curriculum Support.  
Ian Gibson, head of Collections and Content further noted, "Her mix of institutional knowledge and pragmatic advice have been instrumental to my growth as a librarian and as a manager."    
Interim University Librarian Amanda Etches has worked with Barbara at both University of Guelph and McMaster University and notes that Barbara's "deep commitment to her personal and professional values of collegiality, integrity, trust, clear leadership, and expectations make her an excellent leader, manager, and colleague."  
In accepting the award, Barbara said, "I was surprised – and honoured – to be nominated for this award by colleagues whom I value and respect so highly. When I reflect on my career, it is the people who stand out. Because how we show up – and how we show up for each other – are what matter most."  
We extend our sincerest congratulations to Barbara along with our heartfelt thanks for her innumerable contributions to the library and to the University.