Last updated: September 8, 2023 11:27 EDT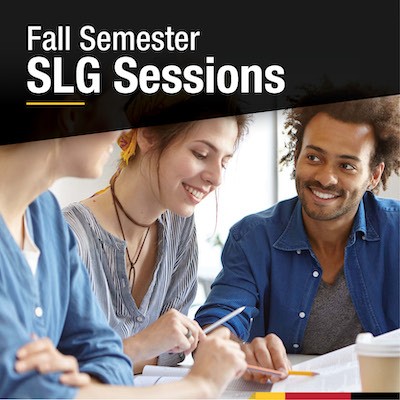 As we welcome students back to the start of the new academic year, we are excited to highlight one of our flagship library programs, Supported Learning Groups (SLGs). SLGs begin on September 11 and provide numerous benefits to support students in challenging courses. 
SLGs are interactive group study sessions for challenging and high-risk undergraduate courses which span a variety of disciplines. These weekly sessions are facilitated by upper year students who have received high grades in the course. SLG leaders use a Supplemental Instruction model to help students learn meaningfully and develop effective cognitive learning strategies while reviewing course content. These strategies help increase students' awareness of their individual learning styles which strengthens their respective study practices. The learning methods taught during these sessions also promote material retention. 
Students can attend SLG sessions throughout the semester, though attendance often peaks just before a major test or exam. SLG leaders anticipate this increased demand and plan active and collaborative study for as many as 150 students at a time, either online or in person. Rather than simulating exam conditions, SLG review sessions encourage students to work together to actively recall concepts from memory, identify gaps and mistakes, and share their strategies on how to study and take the test.  
In addition to providing students with a social, engaging, and judgment-free atmosphere in which to study, SLGs promote critical thinking, communication, and application skills. Additionally, regular attendance at sessions fosters an increased sense of motivation and higher grades.
View information regarding available sessions and how to attend.