Last updated: November 3, 2023 14:23 EDT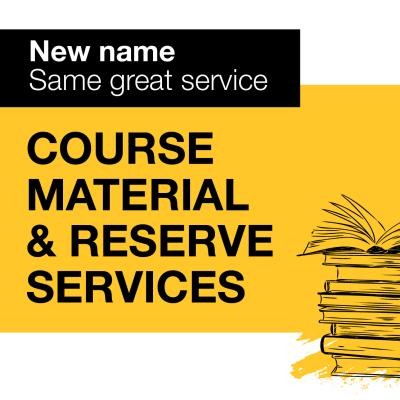 Course Material & Reserve Services is the new name for the library team that enables students to access course materials through the Course Reserves (Ares) system.
Formerly known as e-Learning & Reserve Services, Course Materials & Reserve Services offers a range of services to help instructors in managing course materials – both physically and online, including:
Ensuring all material posted in Course Reserves (Ares) is copyright-compliant and meets the requirements of the Accessibility for Ontarians with Disabilities Act (AODA).
Getting and making available copies of required textbooks for most undergraduate courses for students to borrow.
Whether you're an instructor wanting to place materials on course reserve, or a student needing to access course materials, we're here to help.
Learn more about Course Reserves (Ares) online or come visit us in-person on the first floor of the McLaughlin Library.