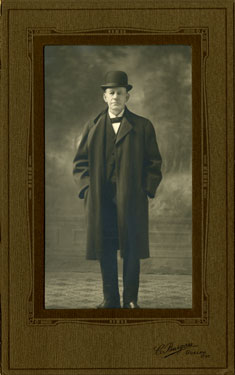 George Sleeman Sr. was an ambitious and driven man. A successful entrepreneur, brewer, sports enthusiast, and political figure, he played a key role in the growth and development of the City of Guelph. By the age of 18 he was managing the day-to-day operations of his father's brewery and by 1867 he became the sole owner of Sleeman Brewing and Malting.
George was fascinated with new technology and the science of brewing. He made several advancements to his brewing operation that increased production and sales, which made Sleeman Brewing and Malting one of the most successful brewing operations of its time. Some of these advancements included introducing bisulphate of soda as a preservative and stabilizer, and inventing a device called an attemperator that controlled the temperature of steam during the brewing process. Such innovations allowed George to gain greater control of his brewing process, cut labour costs, and introduce new products to his product line. By 1890, George had established outlets in fifteen cities and towns across Ontario.
George's accomplishments went beyond the success of the brewery. He played a huge role in community development, had a colourful political career which included being Guelph's first mayor, founded the Guelph Railway Company, and held a strong presence in sports as the manager and financial backer of the Guelph Maple Leaf Base Ball Club.