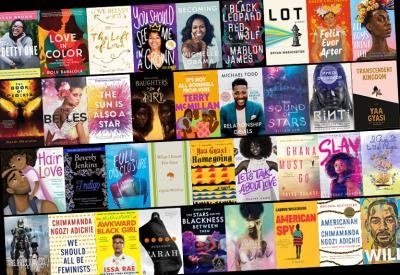 During Black History Month, people from across the world celebrate the achievements and history of Black people and their communities. For 2022, the Guelph Black Student Association and the library invite the University of Guelph community to explore Black Joy through a diverse and comprehensive reading list.   
The collection "Cultivating and Celebrating Black Joy" features more than 30 books available at the U of G library, showcasing Black-authored stories that evoke and celebrate Black joy.   
Items featured in the collection: 
Will by Will Smith: This novel explores the life of globally recognized music producer and actor Will Smith and the associated hurdles, plateaus, and climaxes that have accompanied his life journey. 
Hair Love by Matthew A. Cherry: This book covers the significance of loving and embracing one's natural hair. The story is told in parallel to the depiction of a father and daughter's strong bond and encourages its audience to embrace their natural beauty regardless of societal standards. 
Becoming by Michelle Obama: This title tells the life story of former First Lady of the U.S., Michelle Obama, exploring her trials and triumphs while navigating the world and experiences of intersectionality. 
Year of Yes by Shonda Rhimes: In this book, creator of Grey's Anatomy and Scandal and executive producer of How to Get Away with Murder Shonda Rhimes reveals how saying YES changed her life for the better – and how, with the correct application, it can change yours too.  
Questions?  
Ask us! We're here to help.