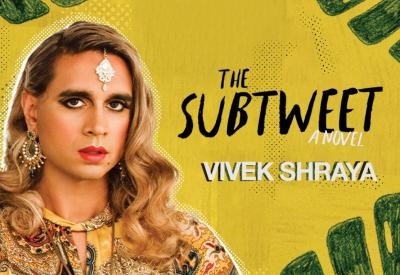 To support Gryphons Read participants as they read this year's book, Vivek Shraya's The Subtweet, we've developed an online collection The Louder the Silence: Visibility and Friendship in Vivek Shraya's The Subtweet.  
Curated by Taylor Brown, Gryphons Read Program Assistant, this collection gives background on The Subtweet, inspired by the texts Shraya directly references in the novel and other materials that engage with its themes. Presenting a multi-faceted reading experience by emphasizing different ideas at play, the various mediums featured mimic the many voices represented on a social media newsfeed. 
Some of the works featured in the collection: 
Death Threat by Vivek Shraya. This novel is a contemporary horror story that explores the unforgiving, anonymous digital world. Death Threat exemplifies the most terrifying, uncontrollable, and unhinged outcome of being online, which The Subtweet's Neela and Rukmini experience as they contend with strangers commenting on their lives, relationships, and art online. 
"Can the Subaltern Speak?" by Gayatri Chakravorty Spivak. This essay is said to have inspired Rukmini's band, Subaltern Speaks. In the essay, Spivak explains that the subaltern is a person who is marginalized by their society and must often communicate in the language and style of the dominant group to be heard and understood. This becomes a central idea for Rukmini and Neela as musicians operating within a predominantly white industry. 
Trick Mirror: Reflections on Self-Delusion by Jia Tolentino. The essay "The I in Internet" from this book focuses on how the internet, specifically social media, has made users more visible and vulnerable than ever. Tolentino's essay speaks to the burden that falls upon women in the digital age and the side effects of living under a digital microscope that both Rukmini and Neela live under as women of colour. 
This collection of titles was curated by Taylor Brown, our Gryphons Read Program Assistant who is currently completing her BA in English. Taylor developed the vision for this collection and chose the titles included here. Thanks to Taylor for her thoughtful work and for helping us celebrate this year's Gryphons Read program!
More information about the Gryphons Read book club.  
Questions?
Ask us! We're here to help.