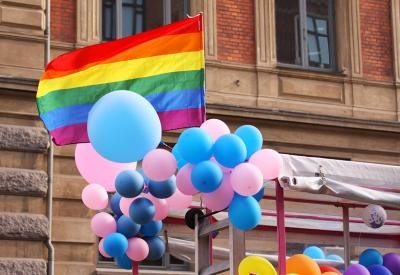 In 2020, we experienced an extraordinary historical moment as protests emerged globally to demand justice against police brutality in the wake of the killings of Breonna Taylor and George Floyd by police. This surge of activism emerged during the COVID-19 pandemic, which had a disproportionate impact on the health and economic welfare of communities of colour. During these crises, we also wanted to recognize and honour Pride month, an LGBTQ2SIA+ movement that also emerged from protests against police violence and was later shaped by the AIDS pandemic.
Given the reality of 2020, it was meaningful to highlight two themes for the Pride 2020 Online Collection – Pride in a protest and the impact of the AIDS crisis on the LGBTQ2SIA+ community. In this online collection, you'll find online books, articles, and videos.
Two documentary films that will help you understand this historical context:
After Stonewall: America's LGBT Movement documents the history of LGBTQ2SIA+ life after the Stonewall Riots of 1969 – riots led by trans women of colour in New York City, protesting homophobic and transphobic harassment and brutality by the police. It includes interviews with LGBTQ2SIA+ activists who agitated for social change throughout the late 20th Century, and highlights the intersectionality of this work with racial justice groups like the Combahee River Collective and the Salsa Soul Sisters.
How to Survive a Plague documents the early years of the AIDS epidemic and the actions of activist groups like ACT UP and the Treatment Action Group (TAG). The film features the prominent activist Larry Kramer, founder of ACT UP, who died on May 27, 2020, in Manhattan, New York.
Continue exploring and learning
Continue learning about the history of Pride and LGBTQ2SIA+ experiences in our collections through LGBT+ Source and Sex and Sexuality: Sixteenth to Twentieth Centuries, featured in a Collections Highlight from 2019. And don't forget to check out local Pride events hosted by the Guelph Pride Festival each June.
Questions?
Email us at library@uoguelph.ca.