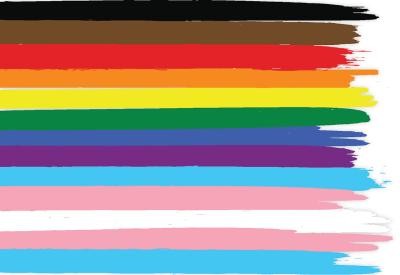 As we celebrate Pride throughout the month of June, the library is highlighting media that portrays positive representations of LGBTQ2IA+ stories through our new online collection Pride 2022: Representation Matters. 
Curated in partnership with the Sexuality and Gender Diversity Office, the items in this collection are sourced from the LGBTQ2IA+ Representation Masterdoc, a project by Tess Vardy, a Peer Helper and third-year psychology student. Tess's Masterdoc rates the quality of the LGBTQ2IA+ representation in popular media to help students who are looking for stories that are positive and affirming. 
The library's collection features media from the Masterdoc that Tess ranked highly, including the following titles: 
Moonlight: The Oscar-winning film is a coming-of-age drama that follows the main character Chiron through defining chapters of his life as he grapples with his identity and sexuality while growing up as a young Black man in Miami. Moonlight received a high ranking for presenting the progression of a relationship between two Black Queer characters that contains both joy and struggle and addresses issues of bullying, abuse, slurs, self-acceptance, and found family. 
Aristotle and Dante Discover the Secrets of the Universe by Benjamin Alire Sáenz: When Ari and Dante meet, they develop a special bond that will teach them the most important truths of their lives and help define who they want to be. For showing the realistic experience of two Queer Mexican Americans and addressing issues of bullying and struggling for self-acceptance, this book received a high score. 
Stonewall: A Building, an Uprising, a Revolution by Rob Sanders: This is the first picture book to tell of the historic and inspiring role of the Stonewall Riots in the LGBTQ2IA+ civil rights movement. The book received a high score for its accurate representation of the true history of the Stonewall Riots and the origin of Pride. 
View the full Pride 2022: Representation Matters collection and find more information about these picks and their rankings in the LGBTQ2IA+ Representation Masterdoc. 
Although the library can't purchase some of the recommended titles from popular streaming services, you can check out these other great films from the Masterdoc through popular streaming services: