Last updated: November 11, 2022 15:35 EST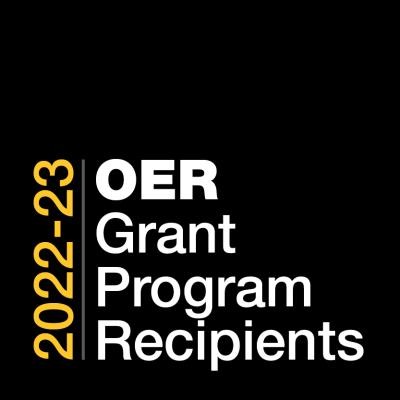 The McLaughlin Library is pleased to announce the 2022-2023 recipients of the Open Educational Resources (OER) Support Program grant recipients! Three University of Guelph instructors are receiving grants to create free, high-quality digital education materials that will improve access to educational resources for U of G students.  
The OER Support Program provides funding and in-kind expertise to support U of G Instructors interested in creating, adapting, and adopting open textbooks or other OER.  
The following instructors and their corresponding projects will be supported through this program: 
Dr. John Donald, Associate Professor School of Engineering 
OER Creation Project for ENGG*1100: Engineering & Design I 
Dr. John Donald will be using the funding to hire four Undergraduate Research Assistants to design and develop two modules of an open textbook that addresses the engineering profession in a Canadian context and replace a $120 commercial textbook for 400 students annually.  
"There are very few textbooks that capture engineering and design from the Canadian Perspective and these books can be expensive and get quickly out of date," said Donald. "The OER will provide an open, no cost, and current and easy-to-update resource to students to supplement their learning in their engineering design courses. The project will also serve as a pilot to demonstrate how OER resources can be utilized in engineering design courses to provide additional open resources to students in the future." 
Dr. Kimberly M. Levere (Herder), Associate Professor, Department of Mathematics & Statistics  
OER Creation Project for MATH*2200: Advanced Calculus I   
Dr. Kimberly Levere's funding will go towards purchasing a software license and hiring an undergraduate to assist with the development and review of problem sets to be included in an OER, as well as type-setting OER content, replacing a $150 textbook for 150 students annually. 
"The OER project will help my students by giving them a resource that works very closely with their course manual to help them to practice the course material." Levere said. "The questions that have been created in this practice resource range from very basic to challenging and thought provoking. Students can not only solidify their understanding but also push themselves to new heights. Having this resource at no additional cost to them makes learning much more accessible and removes the burden of purchasing a traditional textbook for many hundreds of dollars." 
Dr. Michael Mueller, Faculty, University of Guelph-Humber, Department of Psychology  
OER Creation Project for PSYC*1100, PSYC*2190, and AHSS*1170 (Guelph-Humber): Developmental Psychology   
Using the funding to hire a research assistant to help develop modules for an interactive open textbook, Dr. Michael Mueller plans to complement the current Developmental Psychology textbook which is used for three courses offered multiple times per year.  
"For my project, I will provide the readers with more background information from a variety of perspectives. This helps students to develop a deeper understanding of the discipline and reflect more critically on assumptions," said Mueller. "The OER approach also allows me to provide a forum for voices that are still too often neglected and ignored. Finally, one learns best if one does not just passively absorb information (such as reading a typical textbook chapter by chapter); thinking actively and critically through the material leads to much better results." 
Funding for this program is provided by the library and managed by the Open and Affordable Course Content Task Force. In-kind support is provided by the McLaughlin Library, the Office of Teaching & Learning, and Open Learning and Educational Support. 
Applications for the 2023-2024 OER Support Program will open in March 2023.  
Learn more about OER support at U of G. 
Questions? 
Ask us! We're here to help.