Last updated: November 11, 2022 15:35 EST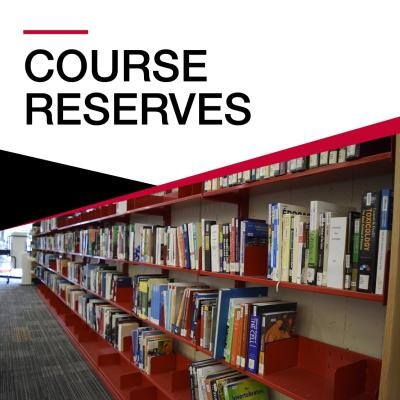 In the midst of a busy academic semester, we wanted to take a moment to remind our community of some important information and considerations regarding course reserves. 
The library has a wide variety of course reserve resources available for students located on the red shelves near the library's new entrance. These resources are placed on course reserve at the request of course instructors, and include physical copies of textbooks for undergraduate courses, supplemental course materials, as well as a multitude of online resources. Learn more about how to access online course reserve resources here. 
To locate physical course reserve items for your course, look them up in the Ares Course Reserve system so you know the title you are looking for, and confirm that it is available. Materials are filed on the shelves in course number order with respective course codes listed on the book's spine. 
To help ensure that the availability of course reserve materials is accurately reflected in the library catalogue for all library users, please remember to sign out course reserve material at a self-check unit or at the Ask Us Desk after taking it from the red course reserve shelves. As these materials are in high demand, each resource is labeled with a unique loan period of 4 hours, 24 hours, or 3 days. It is essential to adhere to the material's indicated loan period and return it to the white course reserve shelf adjacent to that collection. When course reserve materials are returned to this location, the loaned items are automatically discharged from the user's account. Please note that course reserve materials should not be returned directly to the red course reserve shelves or deposited into the book return bins. In the event that course materials are returned late or to the incorrect location, fines will be incurred.  
We appreciate your assistance with following the course reserve guidelines. Keeping these processes in mind will help to ensure that as many students as possible are able to access these valuable resources to support their academic success.