Last updated: January 4, 2023 09:30 EST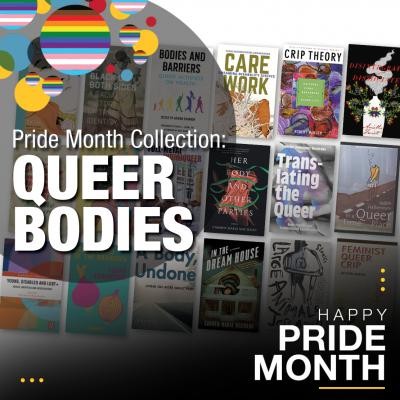 It's the beginning of Pride Month 2021 and to celebrate we've developed an online collection focused on queer bodies. 
Students, faculty, staff, and community members who visit the library deserve to feel that they are welcome, supported, and safe within our physical and virtual spaces. "Participating in Pride Month and promoting the works of underrecognized queer creators is one small way we can promote and support queer culture," said Melanie Cassidy and Yoonhee Lee, Learning & Curriculum Support Librarians and co-creators of the collection. 
The collection recognizes queerness as it's enacted through the body and includes over 30 books written by or about queer people. "Queer bodies are counter normative; they are trans bodies, fat bodies, disabled bodies; they are bodies that are politicized by virtue of existing," said Cassidy and Lee. 
All items in the collection are accessible to the U of G community and items from the collection will be featured throughout the month on the library's social media channels. 
Want more LGBTQ2SIA+ resources?  
Questions?  
Ask us! We're happy to help.