Last updated: November 11, 2022 15:35 EST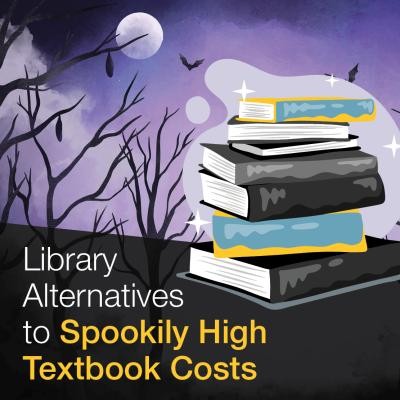 As students begin the process of preparing for final exams this "spooky season," we invite our community to investigate the library's Open Educational Resources (OERs).  
OERs are educational materials including but not limited to textbooks, streaming videos, test banks, podcasts, and modules that are openly licensed and freely available for anyone to use. Many are high-quality and peer-reviewed resources that can be modified and repurposed to meet specific course learning objectives and student needs. A large number of OERs are also available online. 
The numerous benefits of OERs for students include reducing their costs, ensuring they have access to required course materials from the first day of their course, and improving accessibility for those with perceptual disabilities. The OERs available at the library span a variety of disciplines from Science and Engineering to Business and Economics to Social Sciences and Humanities. In the event that a student is unable to find an OER that suits their academic needs, library staff members are available to support. 
Throughout the academic year, the library will be sharing more information about its array of OER offerings to contribute to tackling the important issue of course material affordability. 
Learn more about OERs at https://www.lib.uoguelph.ca/using-library/faculty-instructors/open-educational-resources#what-oer. 
Questions? Ask us!