Last updated: November 11, 2022 15:35 EST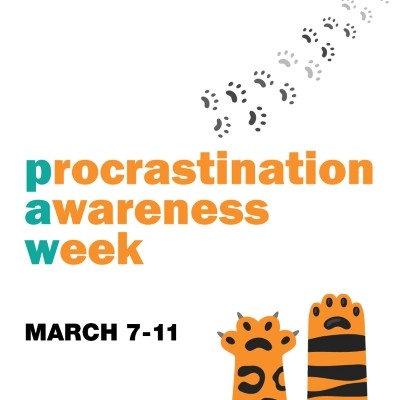 Join us for Procrastination Awareness Week (PAW) from March 7 to 11, 2022. This free, open, virtual, and inclusive event is a cross-institutional collaboration that invites post-secondary students to learn more about procrastination, develop effective habits, connect with one another, and make progress on their to-do lists.
Throughout the week the event features some of the best procrastination-related programming from across participating institutions. Writing Centres, Learning Commons, Academic Success Centres, Accessible Learning Centres, and Libraries across Canada are offering free workshops, study halls, and social opportunities to support students' learning about procrastination.
The University of Guelph Library's own Joannah O'Hatnick and Chen Chen from Learning Services are offering workshops as a part of this event.
At Procrastination and Perfectionism on Wednesday, March 9 from 1:00 pm -2:00 pm, Joannah will discuss the links between procrastination and perfectionism, as well as identify strategies to decrease procrastination and manage perfectionism.
At the workshop Top Strategies for Overcoming Procrastination on Thursday, March 10 from 2:00 pm - 2:25 pm, Chen will cover some of the most effective and commonly used strategies to overcome procrastination, such as the pomodoro method and positive internal dialogue.
These are just a few of the workshops offered – see the full agenda and register for PAW. Please note that the times listed on the agenda are in PST.
This event is sponsored by the Learning Specialists Association of Canada.