Last updated: November 11, 2022 15:35 EST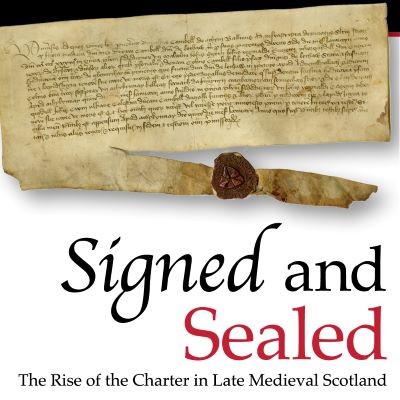 The exhibition "Signed & Sealed: The Rise of the Charter in Late Medieval Scotland" is launching on November 6, 2021 at the McLaughlin Library. The charters in this exhibition, which are the oldest materials in the library's Archival & Special Collections, date from the 14th through the 16th century and relate to lands held by the Campbell and Menzies families who exercised lordships in the Western Highlands. 
The exhibit is an experiential learning collaboration between the Department of History and the University of Guelph Library. "Through the creation of this exhibit, our students had opportunities, not only to work hands-on with original medieval manuscripts, but also to collaborate with staff in Archival and Special Collections and gain experience in the realm of Public History," said Dr. Susannah Ferreira.
"Working with these centuries-old documents allows students to experience the past in a more tangible way, building a meaningful connection with a distant time and place," said Brenna Clark, History PhD student involved with the project.
In Scotland during the Middle Ages, land was the chief source of wealth and power. In the 12th century Scottish landholders, following the examples set by the church and the crown, adopted the custom of recording transactions relating to land and other legal privileges in written charters authenticated with their own seals. "These charters divulge much about the Scottish families of the past. From them, we can glean descriptions of the land bestowed, learn about the grantors through their embossed wax seals, and examine the local elite's political affinities and relationships," said Dr. Cynthia Neville.
As these charters were written on animal hide, their DNA is currently being analyzed in a partnership between Archival and Special Collections and the departments of History, Animal Biosciences, and Molecular and Cellular Biology to learn about livestock the Scots kept.
We invite you to join us for the virtual launch of this exhibit on Saturday, November 6 from 10 a.m. to 11:30 a.m., featuring keynote speaker Prof. Cynthia Neville, formerly of Dalhousie University and now of the University of Guelph's Centre for Scottish Studies. Register for the exhibit launch.
University of Guelph students, staff, and faculty can book an in-person appointment to view the actual charters in the exhibit gallery in the Archival & Special Collections reading room, curated by students in Dr. Ferriera's history class. To register for a time, send an email to libaspc@uoguelph.ca.
Everyone can access a virtual version of the exhibit curated by history students in Dr. Sierra Dye's course.