Last updated: November 11, 2022 15:35 EST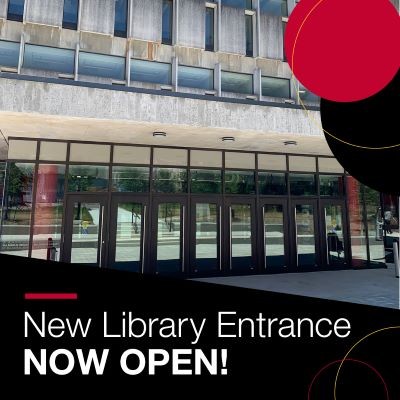 We're excited to announce that the new library entrance is now open! Users can now enter the library through the new doors that face Johnston Green.
This new entrance will now serve as the main entrance. The former entrance onto Winegard Walk will serve as an emergency exit.
You can now find the Ask Us Desk and IT Help Desk in their new home in the new larger foyer, which will reduce congestion as users enter the building.
With the opening of this new entrance, there are many features to enjoy! New seating and gardens will soon be available between the library and Massey Hall for community members to meet and enjoy the fresh air. 
In the winter, a heated concrete pad will melt ice and snow, reducing the need for salt. The new renovation also doubles the current number of entrances with eight doors, including two accessibility entrances, and a vestibule that's three times larger than the current one. 
"We are so pleased that work has been completed on the new entrance in time for the fall semester," said Interim University Librarian Amanda Etches. "Students and Library users will be immediately impressed not only by the design and features, but by how the new entrance helps with the flow of people throughout the first floor and study areas." 
Questions?
Ask us! We're here to help.