Last updated: November 11, 2022 15:35 EST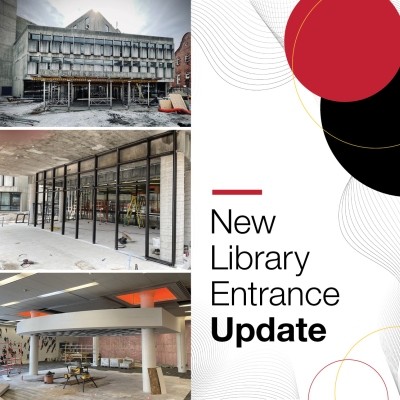 As work progresses, the new library entrance is beginning to take shape! We expect it will be completed in June. Until then, here are some updates on how this exciting project is going and a sneak peak of what you can look forward to once it's finished.  
A messy winter? No problem! The entrance will feature the first heated concrete pad on campus to help melt ice and snow during the winter months, reducing the need for salt and sand. This innovative feature will also act as a trial for adoption of heated concrete elsewhere on campus.   
Another notable feature is the new entrance's suspended concrete roof slab, the first of its kind on campus completed during a renovation project.  
Once the new entrance is completed, the U of G community will be able to enjoy many additional improvements such as exterior seating between the library and Massey Hall, including gardens where people can relax during good weather.  
This project will also double the current number of entrances, with eight doors, which incorporates two accessibility entrances, and a vestibule that is three times larger than the current one.   
Safety was a key design consideration. The new entrance will no longer open onto the busy Winegard Walk, where there is a risk of being struck by a passing cyclist, skate boarder, or vehicle.  
And finally, the Ask Us Desk and the IT Help Desk will be moved to the new larger foyer, reducing congestion as users enter the building.   
Here are some photos showcasing the project's progress to date.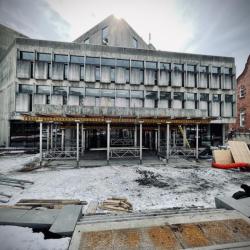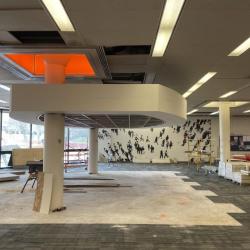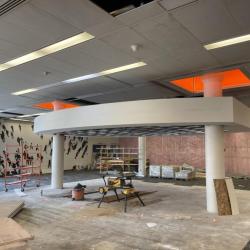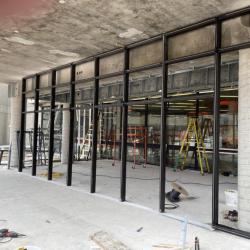 Photo credit: Kirk Sprague
Questions? 
Ask us! We're here to help.