Last updated: January 4, 2023 11:07 EST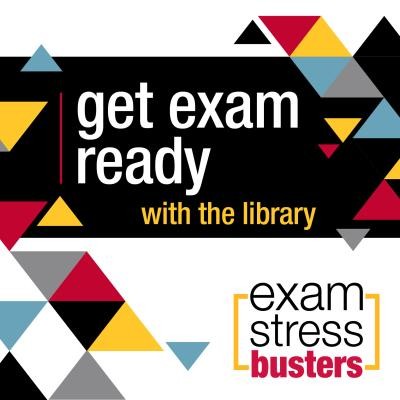 The library is here to help you approach your exams with confidence by providing you with strategies, tips, and resources that will help you master your course material and perform at your best. 
Adopt Effective Study Strategies 
By adopting effective study strategies that fit your your needs, you can make your study time more productive and efficient. Here are a few strategies from the library's Learning Services that will help you learn and understand your course material: 
Travel review 

Use your time walking, running, or riding the bus to review lecture material. Think of the main lecture topics and recall as many important concepts as you can. This works best when done on the same day as the lecture. 

Write it down 

Without using your notes, write down everything you can remember about a slide or concept. Then fill in anything you're missing with a different colour so you can see what you need to review. 

Become the teacher 

Find a family member or friend and teach them the material you're studying as if they were your student. This will help you recall information, think deeply about the material, and explain the material in a simpler way.  

Five-day study plan 

Try the Five-Day Study Plan introduced by the Learning Strategies Center at Cornell University. The key to this plan is dividing your study material into chunks and mixing your studying time with review time. 

Active studying 

Reading notes repeatedly can get boring. Mix it up by trying different methods, such as a concept map or matrix chart.  

Dr. Richard Felder's Test Preparation Checklist 

Created by Dr. Richard Felder, this Test Preparationn Checklist can help you build confidence when approaching exams and improve your test preparation. 
Book a Studying Appointment 
Book a studying appointment with Learning Services to get individualized support and guidance on building a strong study plan and managing your time effectively. 
At the appointment, you can discuss:   
Maintaining motivation and staying organized   
Being more efficient and effective with your studying   
Interpreting feedback and learning from tests   
Strategies to prevent procrastination  
Book a studying and time management appointment.
Access Online Resources 
We have tips and strategies for all your end of term assignments, exams, and papers available online. Check out these online library guides: 
Questions?   
Ask us. We're here to help.