Last updated: April 29, 2023 16:22 EDT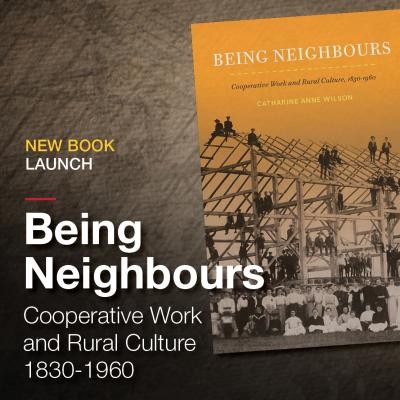 On January 25, the University of Guelph Rural History Roundtable and the McLaughlin Library will warmly welcome Dr. Catharine Wilson for the launch of her new book Being Neighbours: Cooperative Work and Rural Culture, 1830-1960. Wilson is the Francis and Ruth Redelmeier Professor of Rural History at the University of Guelph, a Fellow of the Royal Society of Canada, and a Fellow of the Agricultural History Society. 
"Throughout history, farm families have shared work and equipment with their neighbours to complete labour-intensive, time-sensitive, and time-consuming tasks. They benefitted materially and socially from these voluntary, flexible, loosely structured networks of reciprocal assistance, making neighbourliness a vital but overlooked aspect of agricultural change. Being Neighbours takes us into the heart of neighbourhood – the set of people near and surrounding the family – through an examination of work bees in Southern Ontario from 1830 to 1960. The 'bee' was a special event where people gathered to work on a neighbour's farm like bees in a hive for a wide variety of purposes, including barn-raising, logging, threshing, quilting, turkey plucking, and apple paring. Drawing on the diaries of over one hundred men and women, Catharine Wilson takes readers into families' daily lives, the intricacies of their labour exchange, their workways, feasts, and hospitality. Through the prism of the bee and a close reading of the diaries, she uncovers the subtle social politics of mutual dependency, the expectations neighbours had of each other, and their ways of managing conflict and crisis. This book adds to the literature on cooperative work that focuses on evaluating its economic efficiency and complicates histories of capitalism that place communal values at odds with market orientation. Beautifully written, engaging, and richly detailed and illustrated, Being Neighbours reveals the visceral textures of rural life." -- Source: McGill-Queen's University Press via the library catalogue 
University community members are invited to attend in-person or online. The event will be held in the Robert Whitelaw Room B in the library from 4 p.m. to 5:30 p.m.  
Registration is only required for those who wish to attend online. Register to attend the event online.