Last updated: November 11, 2022 15:35 EST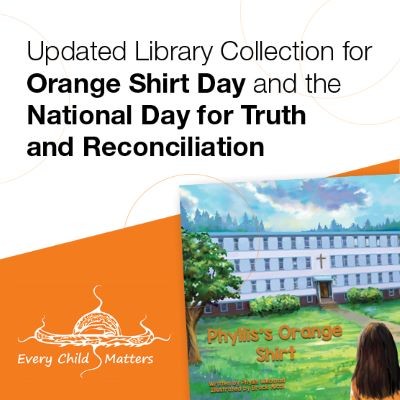 In recognition of Orange Shirt Day and the new National Day for Truth and Reconciliation, the library has added a subcategory to the Exploring Indigenous Narratives and Worldviews Collection. As Orange Shirt Day honours the Indigenous children sent away to residential schools, resources in this subcategory explore the history of residential schools in Canada.
"We curated this subcategory to share experiences of those impacted by the residential school system and to uplift the stories of survivors, their families, and communities," said Cara Wehkamp, Special Advisor to the President on Indigenous Initiatives.
Curated by Indigenous Initiatives and the Indigenous Student Centre, this collection is meant to be a place for learning and exploration about First Nations, Inuit, and Métis peoples, cultures, and worldviews. Members of the University of Guelph community can access novels, memoirs, research texts, and scholarly texts to learn about the history of residential schools and to support the university's commitment to decolonization and reconciliation.
For those unfamiliar with Orange Shirt Day, Phyllis's Orange Shirt by Phyllis Webstad tells the story of her experience at residential school, which inspired the movement and spread the message that 'Every Child Matters.'
Other titles in the collection dive deep into the history of residential schools to help readers understand their impact and inform the journey of reconciliation, such as A Knock on the Door: The Essential History of Residential Schools for the Truth and Reconciliation Commission of Canada by Phil Fontaine and Aimée Craft; The Sleeping Giant Awakens: Genocide, Indian Residential Schools, and the Challenge of Conciliation by David MacDonald, University of Guelph Professor of Political Science; and Final Report of the Truth and Reconciliation Commission of Canada, Volume One: Summary: Honouring the Truth, Reconciling for the Future by the Truth and Reconciliation Commission of Canada.
Offering a local perspective, the book The Mush Hole: Life at Two Indian Residential Schools by Elizabeth Graham explores the records of residential schools, Mohawk Institute and Mount Elgin Residential School near Guelph and stories from those who attended them.
As you take time to explore these texts and reflect on the history of residential schools, we encourage you to also reflect on what you can do to help support the Truth and Reconciliation calls to action.
Additional Resources
To learn more about Indigenous Initiatives and support for First Nations, Inuit, and Métis students visit the following links:
Questions?
Ask us. We're here to help!