Last updated: November 11, 2022 15:35 EST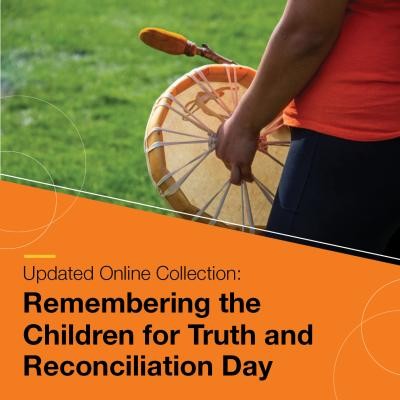 To acknowledge and honour Truth and Reconciliation Week, leading up to the National Day of Truth and Reconciliation and Orange Shirt Day on Friday, September 30, the library has curated a new subcollection "Truth & Reconciliation Day 2022: Remembering the Children" featuring works by First Nations, Inuit, and Métis authors with guidance from Indigenous Initiatives at the University of Guelph. 
This subcollection builds on the existing Exploring Indigenous Narratives and Worldviews Collection, adding additional Indigenous experiences of the residential school system in Canada that tell the stories of survivors and memorialize the children lost to abuse and neglect.  
Recent events such as the Pope's visit to offer an apology for the Catholic Church's role in the residential school system and the continued recovery of the unmarked graves of Indigenous children at residential school sites across the country have brought this past to the light and spurred many Canadians to learn about, reflect on, and mourn this history. 
Through the memoirs, biographies, films, research, and poetry in this collection, members of the U of G community can continue their path of understanding towards the truth of Canada's history and present as part of our journey towards reconciliation. By examining this past, we can focus on a future that prioritizes reconciliation, decolonization, and Indigenous resurgence.  
Included in this collection are also stories and works that shed light on how we can move forward, with titles focused on Indigenous activism in the areas of education, the child welfare system, land-back protest, healing, and storytelling, to help all of us chart a new path forward. 
We hope these titles offer a gateway into the vast constellation of First Nations, Inuit, and Métis experiences and a starting point for your own journey towards truth and reconciliation. At the U of G library, we are committed to working to decolonize our services and provide opportunities to learn more about truth and reconciliation with Indigenous peoples. 
Please note that these materials deal with sensitive and challenging topics that can be distressful for many of us. Should you require mental health support, information on available resources is included below: 
Indigenous Student Advising: Ally Stoett -  Book an appointment.  
Student Counselling Services: Ext. 53244 
Good2Talk: Call 1-866-925-5454 or Text "UofG" to 686868 
keep.meSAFE for international and English Language Program students 
Employee Assistance Program: 1-800-265-8310 
Hope for Wellness Helpline: Call 1-855-242-3310 or chat online. Immediate emotional support is available 24/7 to all Indigenous people across Canada. 
To learn more about Indigenous Initiatives at U of G and supports for First Nations, Inuit, and Métis students:  
Questions? 
Ask us! We're here to help.