Last updated: November 11, 2022 15:35 EST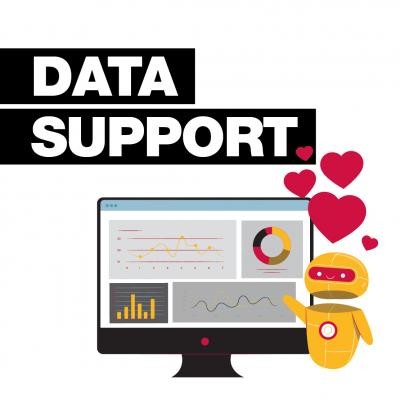 With the summer semester upon us, we wanted to remind you of the many ways we can support your data needs. The past year has helped us evolve how we offer programs and workshops, providing us with new methods — both synchronous and asynchronous — to meet your needs. This article outlines the ways you can get the data support you need at every stage of the data lifecycle.
Data Skills Immersion Program (Asynchronous)
The Data Skills Immersion program offers an introduction or a refresher on the data lifecycle and how each stage impacts the final data output. The program was designed to provide you with the foundational knowledge of how to collect, manage, clean, analyze, and visualize all types of data. Through CourseLink, you'll have access to hands-on activities where real-world data is used to teach you more about tools like Qualtrics, OpenRefine, SPSS, SAS, NVIVO, ArcMap, Voyant, and Tableau. 
The Data Skills Immersion program offers modules on t
opics like
:
Data Basics

Getting Data

Introduction to Survey Creation with Qualtrics

Cleaning and Preparing Data

Analyzing Data

Visualizing Data
Data Skills Workshops (Synchronous)
We also offer Synchronous Data Skills workshops. These workshops expand beyond the basics of data management and will provide you with a more thorough understanding of different tools used throughout the data lifecycle.
The Data Skills Workshop Series 
includes workshop
s like
: 
Introduction to Qualtrics - Creating Data with Online Surveys

Advanced Survey Creation in Qualtrics - Creating Data with Online Surveys

Cleaning & Preparing Data with Open Refine

Introduction to GIS using ArcMap

GIS 2 - Intermediate - Data Analysis and Visualization

Introduction to Text Analysis - Counting and Context

Introduction to Text Analysis - Natural Language Processing

Tableau

Research Data Management
You can also book an online appointment with us to receive personalized support and continue growing your data skills. When you meet with us, we can discuss your data project in more detail, and build off the skills you've developed either on your own, or through a workshop you've taken with us.