The End of an Era: The Decline of the Sleeman Brewing and Malting Company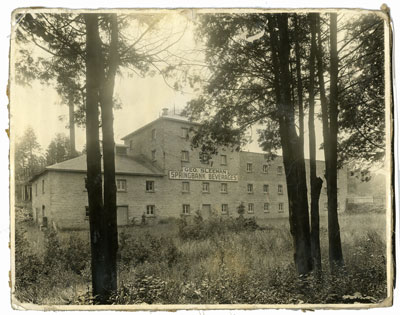 Despite the Sleeman family's continuous success, the business fell on hard times when George (Sr.) chose to single-handedly fund the construction of the Guelph Railway Company. The investment yielded more debt than profit and led to the bank's take-over of that company and the Silver Creek Brewery in 1902. Always the entrepreneur, George (Sr.), his wife Sarah and their sons opened a rival business called the Spring Bank Beverages. Although smaller in size, the new operation was equipped with the latest technology and became a successful operation. In 1905 George (Sr.) retired from the industry.
The Silver Creek Brewery was not profitable under the bank's management and in 1906 George (Sr.) purchased it back from the bank and merged the two businesses. Things were looking up again for the Sleeman family and business was going well. Since George (Sr.)'s son, George A., was working as an agent for the company in Ottawa, the management of the Guelph operations was left to his son Henry O. Sleeman.
The business still managed to be relatively profitable despite the passage of the Ontario Temperance Act (1916) and the enactment of national prohibition in the United States (1919). Henry O. Sleeman and his brothers smuggled alcohol for more than a decade, but were finally charged with smuggling and not paying their taxes in 1933. As a result the Sleeman family's brewing license was suspended, the brewery was sold and the family was barred from brewing for 50 years.