The Early Days: The Silver Creek Brewery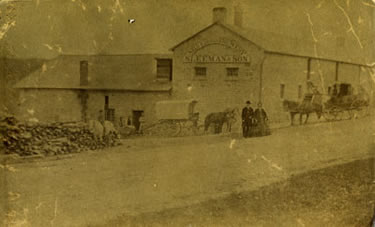 The Sleeman family has a long history in the brewing industry that goes back to the early nineteenth century. John H. Sleeman was already an experienced brewer and maltster when he immigrated to Upper Canada in 1834. After settling in St. David's, he established his first brewing operation, the Stamford Spring Brewery. Although the business was successful, heavy pollution along the Niagara River contaminated the local water source and began to affect his product. Since water quality plays an integral role in the production of beer, John H. knew he needed to relocate to ensure his survival in the brewing industry. He ordered water samples from various locations across the region to find a source closest to that of Burton on Trent so he could produce ales that resembled those found in England. The tests came back and Guelph was the best location. In 1847, he sold his brewery in St. David's and relocated to Guelph where he leased Hodgert's Brewery. John H. established the Silver Creek Brewery in 1851 and situated it on the edge of the town limits, which was rich in natural spring water and had lower taxes.
John H.'s son George (Sr.) began to manage the day-to-day operations of the brewery at the age of eighteen and in 1867 he became the sole owner of Sleeman Brewing and Malting. George (Sr.) was a natural entrepreneur and had big plans for the brewery. These plans included introducing new innovations influenced by science and technology. This included building a kiln to ensure the quality of their malt, building a cool storage cellar to accommodate increased production, and inventing a device called an attemperator, which controlled the temperature of steam during the brewing process. Such technological advancements allowed George (Sr.) to gain greater control of his brewing process, cut labour costs, and introduce new products to his line. At this time, beer was a very unstable product and it could spoil quickly under the slightest temperature change. George (Sr.) addressed this problem by introducing bisulphate of soda, a preservative and stabilizer, to his products in 1874. Not only did it give the beer a longer shelf life by reducing spoilage, it also gave the product a more sparkling appearance. George (Sr.) used this as a creative marketing tool and introduced clear bottles to his line to showcase the attractiveness of his product. Between 1871 and 1872 George doubled the factory's production and by 1890, George (Sr.) had established outlets in fifteen cities and towns across Ontario.
Always the businessman and entrepreneur, George (Sr.) also capitalized on creative advertising to boost sales. He promoted the brewery through sporting events and by sponsoring a local baseball team called the Guelph Silver Creeks. Through his technological innovations and savvy business sense, George (Sr.) made Sleeman Brewing and Malting one of the most successful brewing operations of its time in Ontario.