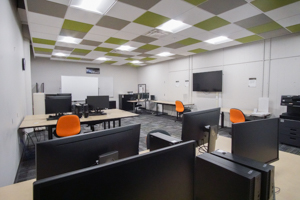 The Data Resource Centre (DRC) is located on the second floor. 
You can drop-in to use the space, or if you require assistance you can book an online appointment with one of our consultants. We can help with questions about data collection, cleaning, analysis (quantitative, qualitative, geospatial, and textual), and visualization.
In the DRC you can access the following software:
ArcGIS
ArcPro
Bloomberg
Eikon (formerly Datastream)*
Google Earth
NVivo
R
SAS
SPSS
STATA
Tableau
*Eikon requires a dedicated login, please contact us beforehand so we can set you up.