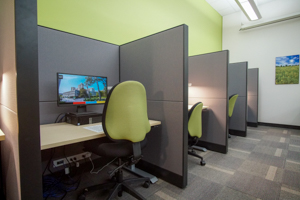 The Library Accessibility Services (LAS) Lab is located on the first floor and available for students registered with Student Accessibility Services. The Lab is designed for individual quiet study, but students may work quietly in pairs if required. However, during midterm and exam periods, the Lab is a silent study space. The Lab also contains LAS staff offices.
The Lab includes the following equipment and features:  
Ergonomic, height-adjustable tables and chairs 
High-walled study carrels to reduce distractions 
Variable lighting options 
A relaxation corner with comfortable, sound dampening chairs and break activities 
Computers equipped with a full range of conventional and assistive software 
A colour CCTV
See Library Accessibility Services for more information.