The Media Studio provides access to state-of-the-art technology required for the creation of digital projects. Media Studio staff provides support in the development of digital literacy and media creation skills. Whenever you book an appointment in any of the Media Studio spaces, you also get access to the Media Studio staff for consultation and troubleshooting. The Media Studio also has a collection of equipment that you may borrow for up to two days. 
The Media Studio is comprised of 4 spaces:
Media Studio Main Office (Library Room 245)
The Media Studio main office is where you check-in for all Media Studio appointments and where you pick up equipment you've reserved. 
Filming Studio (Library Room 267)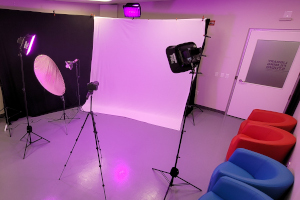 The Filming Studio is a space designed for filming live action footage and photography. You have access to DSLR cameras, tripods, boom and lavalier microphones, professional lighting, and a green screen (also interchangeable to black and white). The Filming Studio is most often used for filming interviews, pitch videos, video resumes, and other live action clips.
Editing Suites (Library Room 247)
The Editing Suites are spaces for editing your digital projects. You have access to 3 Mac editing stations equipped with a variety of software such as Adobe Creative Suite, Final Cut Pro, iMovie, Audacity, and web-based tools including Powtoon and WeVideo.
Sound Booth (Library Room 250)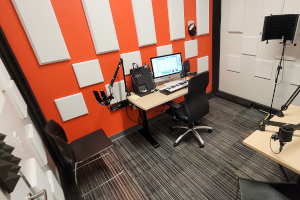 The Sound Booth provides a quiet acoustically treated space for recording audio. The Sound Booth includes a Mac editing station equipped with Audacity and GarageBand, in addition to two adjustable condenser microphones and a mixing board for editing effects.